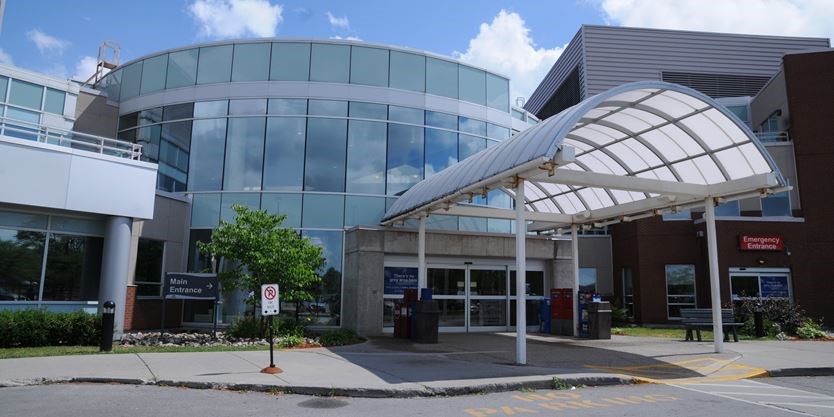 Ross Memorial Hospital
Industry: Healthcare
Avoiding Time Drift and Reducing Labor Costs at Ross Memorial Hospital
Located in the heart of the City of Kawartha Lakes, Ross Memorial Hospital is an active, acute-care community hospital serving more than 80,000 local residents and seasonal visitors. The Ross Memorial team cares for 45,000 patients per year in the 24/7/365 emergency department, provides orthopedics, ophthalmology and general surgery. In addition, they operate a 15station dialysis unit and is renowned for its mental health programs and restorative seniors care.
While reviewing their strengths as well as areas of improvement for level of patient care and the patient experience, Ross Memorial identified that they needed to have a uniform method of keeping and displaying time to its team members, patients and their families. The hospital had been using inexpensive battery-operated standalone clocks throughout their facility. At face value, ordinary wall clocks appear to be the best value on the market, priced at $19-$39. Unfortunately, common everyday wall clocks eventually suffer from a phenomenon known as "time drift", and each clock keeps time at a different rate. The end result – every clock displays a different time. Furthermore, this time discrepancy trips up shift schedules, meeting times, medication disbursement or any time time-sensitive activity. Imagine the clock in the OR displaying a different time than the clock in the ER or nurse's station.
Marc Sorensen, Grounds and Environmental Department at Ross Memorial reached out to Owl Time Clock amongst other vendors. He explored different technologies from various vendors online and decided upon Owl Time Clock mainly due to the fact that Owl Time Clock integrates a low frequency transmitter for synchronization, and this did not interfere with any other critical RF equipment of the hospital nor communication systems. In addition, because Owl Time Clock utilizes low frequency, the hospital did not need to buy an annual FCC license required by the other vendors who were promoting synchronized clocks using a high frequency transmitter. Another critical factor in Ross's selection of suppliers was the important role of service. The other suppliers could only offer depot service, but Owl Time Clock would provide installation, support and on-going same day or next day on-site service which was critical to the hospital environment.
Ross Memorial purchased over 130 Analog and Digital wireless wall clocks. Because the clocks are wireless, installation was quick and simple—no wiring nor cat 5 cable needed to be installed which dramatically reduced installation cost and time. Clocks were installed in all areas of the hospital and the controller software installed on their server. Radio Frequency (RF) Wireless Synchronized Clocks receive a dependable wireless time signal from an Ethernet-based transmitter centrally located within signal range of the clocks. Every clock is synchronized to a selected NTP time server, ensuring the accurate time is displayed throughout an entire building or complex.
The Synchronized clocks at Ross Memorial now display the same exact time across their entire healthcare facility. They automatically update for daylight savings times and they have reduced the labour costs associated with correcting the old battery-operated clocks manually. The hospital has resolved their timing challenges and eliminated time discrepancies which has enabled them to help meet their goals and improve their service as an organization.