Time Pilot Extreme Wireless Jobsite Clock
Originally designed for contractors, the Time Pilot Extreme Wireless Jobsite Clock can be used for any facility setup with multiple locations / sites. The Wireless Jobsite Clock instantly identifies an employee when they tap their iButton to the clock and records the time of the clock-in or clock-out. The whole process takes just a second and gives the employee no opportunity to tamper with the data.
The Wireless Jobsite Clock can be mounted to a wall (interior or exterior) and is secured with a tamper-proof mounting plate and padlock. Each employee is issued a single iButton — an inexpensive, virtually indestructible device that fits on a keychain — to clock in and out. Each iButton is unique, so it helps put an end to "buddy punching".
When it's time to do payroll, there's no need to bring expensive equipment to the jobsite to collect data; all you need is the key-sized USB drive that's included in the Time Pilot Extreme Starter kit. The supervisor inserts the included USB drive into the bottom of the unit, and the clock downloads the time data to the drive.
Once back at the office, the supervisor plugs the USB drive into their computer and downloads the data into the powerful, easy-to-use Time Pilot Extreme software. The software calculates work hours and summarizes the data for other payroll programs or in a spreadsheet format.
Finished the project and ready to move to a new site? Unlock the clock, unscrew the backing plate from the wall and move your system to the next project.
Benefits:
Weatherproof and portable, has powder coated cast-aluminum housing
Secure with metal mounting plate and padlock
Durable and inexpensive
Easy to use with simple software included
Complete starter kit includes: Time Pilot Extreme Wireless Jobsite Clock, software, 10 iButtons, supervisor's iButton, USB drive, mounting hardware and padlock, user manual and Quick Start Guide.
Key Features: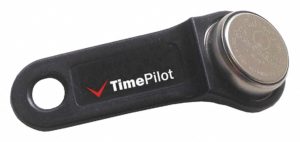 Interested in more information on this product?
Call us at 1-877-567-0633 or email [email protected].
Software compatible with this device: