HS 6 – Hand Sanitizer Station
Our HS 6 is the largest station available, a 6-foot display with dispenser and signage all-in-one. Our hand sanitizer stations ensure your business follows the government guidelines in providing hand hygiene to all customers and employees to help prevent the spread of COVID -19. Choose from fully-customizable graphics (print custom brand colours and graphics) or our standard quick-ship option (standard graphics come in blue and white).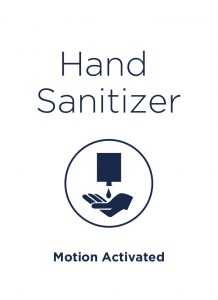 Benefits:
Tall display – clear visibility of your brand messaging
Custom branding – includes two large display panels that can be customized to reflect your brand
Interior storage – the stand provides extra storage for refill bottles
Options for freestanding (free movement stand) or bolted floor mount (stand bolted down to a permanent spot of your choice)
Aluminum composite sides, printed PVC graphic panels with sintra core
Compatible with all wall-mounted hand sanitizer dispensers
Stand Dimensions (self standing): 72" X 18" X 18"
Stand Dimensions (bolt down): 72" X 18" X 6"
Weight: Approximately 55 lbs
Shipping Dimensions: 73" X 20" X 7"
Order the entire Hand Sanitizer Station including the Display Stand with Motion Activated Dispenser or order just the Display Stand separately. The Display Stand works with any wall-mounted hand sanitizer dispenser units, so you can use your existing dispenser unit.
Motion Activated Hand Sanitizer Dispenser
Our commercial-grade hand sanitizer dispensers are automatic, motion-activated that are installed in the display stand to ensure users are applying the correct volume of alcohol-based hand sanitizer to their hands, and to eliminate any physical contact with the unit.
Dispenses liquid, liquid to foam, and gel hand sanitizer solution
Motion-activated dispenser for easy use
Batteries included
Order the Hand Sanitizer Dispenser along with your preferred station. Dispensers are not sold separately.
Interested in more information on this product?
Call us at 1-888-407-0624 or email [email protected].