HS 5 – Hand Sanitizer Station
The HS 5 offers a 5-foot tall stand with built-in hand sanitizer dispenser for an easy, all-in-one unit to provide proper hand hygiene to all visitors and employees to help prevent the spread of COVID -19. The HS 5 Hand Sanitizer Station provides the option of fully customizing your stations with your own brand colours and graphics or our standard quick-ship option that comes in blue and white.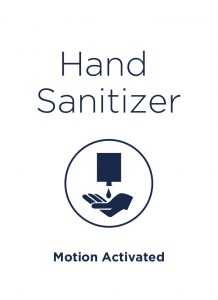 Benefits:
Medium size stand – easier to maneuver around your store
High-impact display – customize the two large front panels with your own branding
Built-in storage for 4 cartridges for easy refills
Two base options – freestanding (which allows you to move it around as needed) or bolted floor mount (which bolts your stand to a permanent spot)
Aluminum composite sides, printed PVC graphic panels with sintra core
Compatible with all wall-mounted hand sanitizer dispensers
Stand Dimensions (self standing): 59" x 12" x 15"
Stand Dimensions (bolt down): 59" x 12" x 6"
Weight: Approximately 45 lbs
Shipping Dimensions: Coming soon
Order complete Hand Sanitizer Station including the Display Stand with Motion Activated Dispenser or order just the Display Stand without dispensers. The Display Stand is compatible with all wall-mounted hand sanitizer dispenser units, making it easy to integrate with an existing program if you have your own dispensers.
Motion Activated Hand Sanitizer Dispenser
Our Motion Activated Hand Sanitizer Dispenser dispenses the perfect amount of alcohol-based hand sanitizer and can be placed anywhere in your business.
Dispenses liquid, liquid to foam, and gel hand sanitizer solution
Batteries included
Hand Sanitizer Dispensers are available with the station only, not sold separately.
Interested in more information on this product?
Call us at 1-888-407-0624 or email [email protected].