HS 4 – Child-Friendly Hand Sanitizer Station
Our 4-foot tall hand sanitizer stations are wheelchair accessible and allows for children's ease of use, providing proper hand hygiene to help prevent the spread of COVID -19. Our display stands can be placed in all businesses and is specifically perfect for schools, day cares, paediatrics, children's stores and more. Customize your stand with your brand colours and graphics or choose our simple standard graphics in blue and white.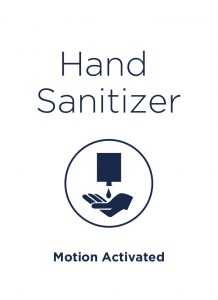 Benefits:
Child-friendly display stand perfect for child care businesses
Customization – includes two display panels that can be custom branded
Storage is built-in for easy refills
Two base options – freestanding (allowing stand to move around freely) or bolted floor mount (stays in a permanent spot)
Aluminum composite sides, printed PVC graphic panels with sintra core
Compatible with all wall-mounted hand sanitizer dispensers
Stand Dimensions (self standing): 47" X 12" X 12"
Stand Dimensions (bolt down): 47" X 12" X 6"
Weight: Approximately 35lbs
Shipping Box Dimensions: Coming Soon
Order the whole Hand Sanitizer Station set including the Display Stand with Motion Activated Dispenser or order just the Display Stand. The Display Stand can be used with all wall-mounted hand sanitizer dispenser units.
Motion Activated Hand Sanitizer Dispenser
Our motion-activated dispensers are manufactured so that they are installed in the display stand and dispense the perfect amount of alcohol-based hand sanitizer that saves on refills and keeps the station area clean.
Dispenses liquid, liquid to foam, and gel hand sanitizer solution
Commercial grade hand sanitizer dispenser units
Easy to access, refillable plastic container: 750mL capacity
Batteries included
Order the Hand Sanitizers Dispensers with the station as a set, the dispensers are not sold separately.
Interested in more information on this product?
Call us at 1-888-407-0624 or email [email protected].