Hand Sanitizer Stations
Make returning to work easier for your employees by setting up and installing hand sanitizer stations in your workplace. Following government guidelines to proper hand hygiene, the Hand Sanitizer Stations help reduce the spread of COVID-19. The station includes the Hand Sanitizer Display and the Motion-Activated Hand Sanitizer Dispenser.
Hand Sanitizer Display Stand
Ensuring proper hygiene is essential to reduce the risk of COVID-19. Government regulations require hand sanitizer stands to be easily accessible for visitors to use upon entering your business. Our professional 6′ tall display unit combines hand sanitizer dispenser and customizable signage in an all-in-one floor stand. Choose from fully-customizable graphics (print custom brand colours and graphics) or our standard quick-ship option (standard graphics come in blue and white).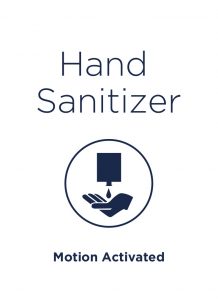 Stand Dimensions: 72″ X 20″ X 18″
Weight: Approximately 50 lbs
Ships in box: 21″ X 43″ X 8.25″
Aluminum composite sides, printed PVC graphic panels with sintra core
Custom graphics for front displays, available in long or short panels to hide or display hand sanitizer unit
Built-in storage for 4 cartridges for easy refills
Compatible with all wall-mounted hand sanitizer dispensers
Order complete Hand Sanitizer Station including the Display Stand with Motion Activated Dispenser or order just the Display Stand without dispensers. The Display Stand is compatible with all wall-mounted hand sanitizer dispenser units, making it easy to integrate with an existing program if you have your own dispensers.
Motion Activated Hand Sanitizer Dispenser
Using the right amount of alcohol-based hand sanitizer to clean your hands is important to ensure its effectiveness and to help stop the spread of COVID-19. Our commercial-grade hand sanitizer dispensers are automatic, motion-activated that are installed in the display stand to ensure users are applying the correct volume of alcohol-based hand sanitizer to their hands, and to eliminate any physical contact with the unit.
Dispenses liquid hand sanitizer solution
Easy to access, refillable plastic container: 800mL (27 oz) capacity
Powered by 4 AA batteries
Satin-finish stainless steel with plastic back plate
Easy to see refill indicator window and key lock
Handles Hand Sanitizer from 0–150 cPs viscosity
Hand Sanitizer Dispensers are available with the station only, not sold separately.
Interested in more information on this product?
Call us at 1-888-407-0624 or email [email protected].